ALL DONE!!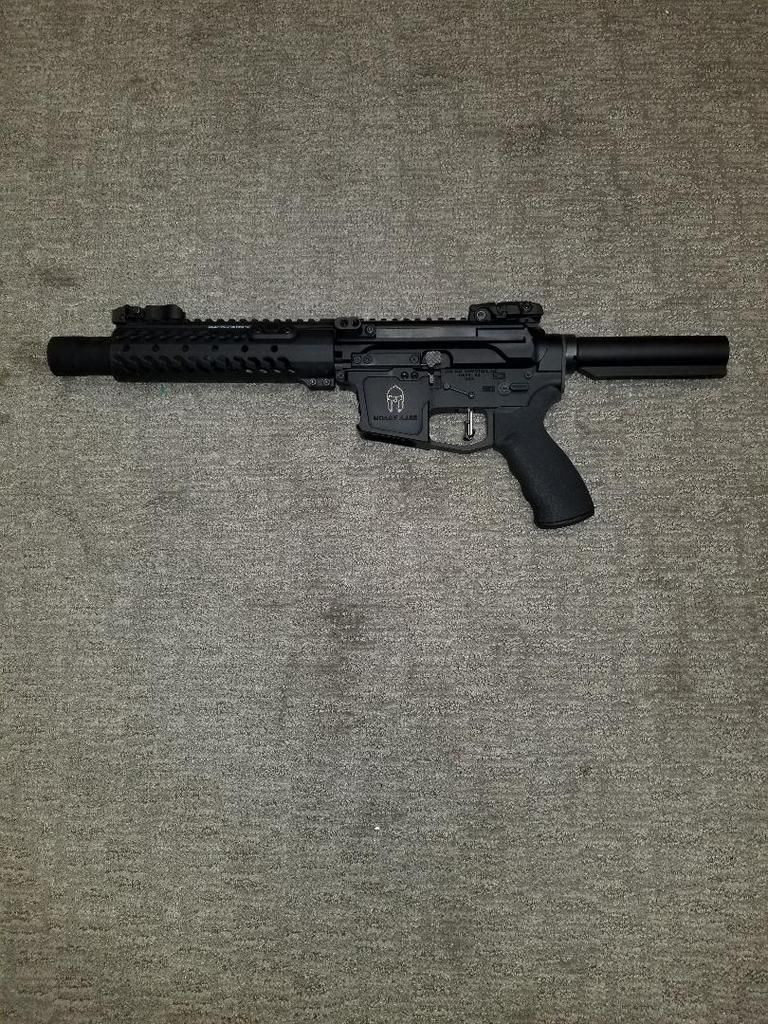 Final Build.
It's All Put Together and I have run some rounds threw it! This is a "Post Date" as I have been So Busy since I Actually Put it Together towards the End of September and Only Just Today have had a chance to Post It.
I had it put together but did not lock it down for about a week but with all that's been going on lately I just haven't had the time to post anything. Now that I have Some Time to do so I will just write it out all at once and post the pictures below.
All the parts arrived just prior to Irma so there was zero time to look them over with all the storm prep and then after the storm I had no power so I was unable to post any updates and pictures.
Below you find pictures of All the parts and separate pictures of them broken down as Upper and Lower Parts.
Up until the Morning I ordered the parts I was still NOT %100 on what I wanted to get. I had lots of good input from board members and had read or watched many reviews of the parts I was considering. I changed my mind at least a few times a day. Then much to my own surprise I settled pretty much on the same foundation that I had listed in the beginning of my post. The Upper and Lower as you will see are Joe Bob's with one twist that I didn't expect myself. The upper is a Side Charging Upper. I do and have now shot suppressed (read more later) on AR's with a suppressor and after reading many reviews the side charger seemed to be the way to go. On this I have NO Regrets. Also I wanted the Last Round Bolt Hold Open feature for sure. The Spartan Upper just seemed to meet all my needs. It was natural to go with the matching lower and it looks very nice as it should. Before I forget, the LRBHO Worked Perfectly.
Below I will go over the other parts I selected and why I did so
The Bolt Carrier Group (BCG) Buffer and Spring. I simply wanted a Very Heavy Bolt as all I read or watched in review after review, People started lite and went to heavy after having lots of problems. Going Heavy always seemed to be a key in fixing Most Issues. Not to mention going lite if it worked would put lots of stress and wear on all the parts especially the lower. I had also considered going with the JP Silent Capture Buffer but it just wasn't going to work (with my desired stock to be) without costly and time-consuming modifications. I don't know anyone that can make the required modifications. Since It's still something I could consider doing in the future and after speaking to some techs at JP plus the people that they referred me to. It's still Not Off the Table and one more reason I decided to go with the JP Bolt. It would be ready without modifications in the future to accept their buffer. So Instead of the JP Silent Capture Buffer and because of my buffer tube choice, I went with a custom buffer and spring specifically designed to for my buffer tube. These parts came from HeavyBuffers. The Buffer weighs in at a hefty 8.5oz and the Spring is a 308 Spring, cut to length for my specific buffer tube.
I also installed the same trigger as my other AR's the Hiperfire Hipertouch EClipse along with a set of KNS Anti Roll Pins
All the parts went together pretty much as expected. I would like to thank John who saved me lots of time and for sure $$ with his suggestion of using the Plastixrevolution Jig in order to hold the upper and install the barrel. I can now very much recommend this set up to others planning on assembling and AR Upper. Putting the barrel on and torqueing it down was one thing I had never done and I was a little nervous about. After watching some videos on it and reading a lot on doing so I went middle of the road on torque at 35lbs. I did not do the torque and reset and torque and reset method either. But using the Plastixrevolution jig really was the only way to go since a 9mm upper is not quite the same as a standard upper and for sure would not have worked with my Magpul block.
All the other parts were pretty much standard AR pins and parts but if you have any questions please post them.
Once assembled but Not Locked in with any blue lock, I got a chance to get it out to my local indoor range just for a function test. I filled mags with some Wolf Ammo 115gr I had sitting around forever as I just don't use it in my pistols, some 147gr reloads that would not pass the drop test in a few barrels that I kept separate, some new in the box 147gr Aguila ammo that I like to use and finally 15rds of 165gr Hush Ammo. Much to my surprise and delight I had the range to myself! I had forgotten to bring my sight adjustment tool and I hadn't mounted the red dot from my SBR but then again it was supposed to be "just a functions test run". The front sight post was set way off I could see right away but I took aim center mass on the head for a reference. Yes, it went Bang the first time and each and every time after. I aimed at the same spot each time and had a nice tight group I could put my thumb on to cover. I was quite pleased as it's still in the obligatory pistol configuration. So, shooting with a pistol that was not zeroed and firing in the not so solid buffer tube to the cheek mode I was making a nicer shot group than expected. Plus the fact that it's 9mm and as advised All Heavy Innards. After shooting AR's for 35 years and feeling but not fully thinking about it anymore you get a sharp but mild jolt when firing them. If you've fired them as much as I have then you can literally think about it and feel\recreate this in your mind. Compared to that even though it's sure only a split second, the 9mm AR configuration is like slow motion to me. You can feel it fire, hold, rock back, pause, and slip forward to reengage. It's almost a lurching feeling not a rapid at all compared to a 5.56. Don't get me wrong I did some double taps and more just to see if I was imagining it. It fired as fast as I could pull the trigger for sure. It's just something you have to experience to get. I decided to push a fresh target to the backstop (I believe will have to check 25yrds?) I choose a spot to aim at and popped a few rounds and once again a decent group about the about palm size then a few double taps made it hand size. Very pleased for sure. Next I put the suppressor on and brought the target in to about 10yrds. Loaded up the HUSH 165gr and fired. WOW All I could Hear Was the Spring and Buffer. Having it on your cheek with No Stock it's amazingly loud! I fired off the rest of the 15rds with a thumb sized group again. Here is where I was thinking I was glad I went with the JP Bolt as the JP Silent Capture is seemingly more likely in the future. I will wait and see. I have fired suppressed with my standard AR but of course not subsonic ammo. The set up as you can see in the pictures is essentially the same but with a stock. I for sure can hear the action but nothing like the 9mm. I guess as Rentprop1 pointed out if you focus on it, it will drive you crazy. But with that said you don't have a lot of choice as that's ALL You Can Hear. Since It was Only 15rds and minus the stock it's to early to tell where I will go with it. Another Note especially for anyone else that is considering going suppressed. Here is where I was Very Happy with my choice of the Side Charging Upper. As anyone knows that has fired a standard AR you get a not so pleasant but tolerable blast of gas up your nose from around the charging handle. BUT with this side charging configuration there is NONE of that! You just see wisps of smoke like someone puffing on a pipe coming out of the ejection port. Was it worth the Extra $$ for this upper? I think so. Next I loaded up the full 33rd magazine with Wolf Ammo and just blasted it at the target. Once again it ate it all and was hungry for more. Unfortunately that was all the ammo I had as it was only supposed to be a Function Run. Wow that was a lot of fun! I was kinda disappointed I didn't bring more. But, I had fired 90 rounds with ZERO Issues! I was more than happy with the set up!
Since All Worked So Well I put Lock Tight on the screws for the handguards, trigger and such. The next step will be to submit the forms to SBR it. I can only imagine what it's going to be like once I get the stock and red dot on it and get it zeroed!
Soon after finishing my build I had some thoughts about putting a 3 lug adapter on it? This was strictly an Idea, just something I would do in the future and maybe even a 5in or so barrel with it. Well I think it was the Next Day? I was on my post ant there was the Last Entry by ss1 suggesting a 3 Lug Barrel! Me being me I thought it over and over. Then the next day I ordered IT AND a New Upper to put it on.Thanks Again ss1!
Thank You to All that replied to my post and PM'd me as well. Every Post made a difference to my thought process and the outcome of my build.
Note Some Pictures will be from prior to the final picture at the top, the come from me wanting to test it before all the parts came in such as the handguards and the 3 lug barrel.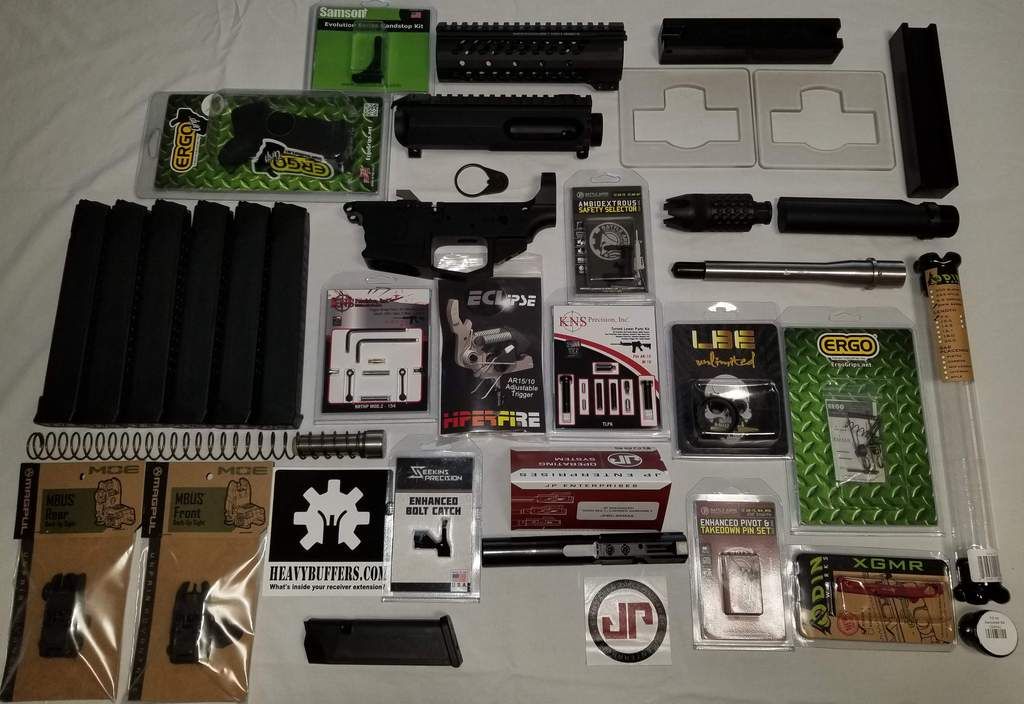 All the Parts
Upper Parts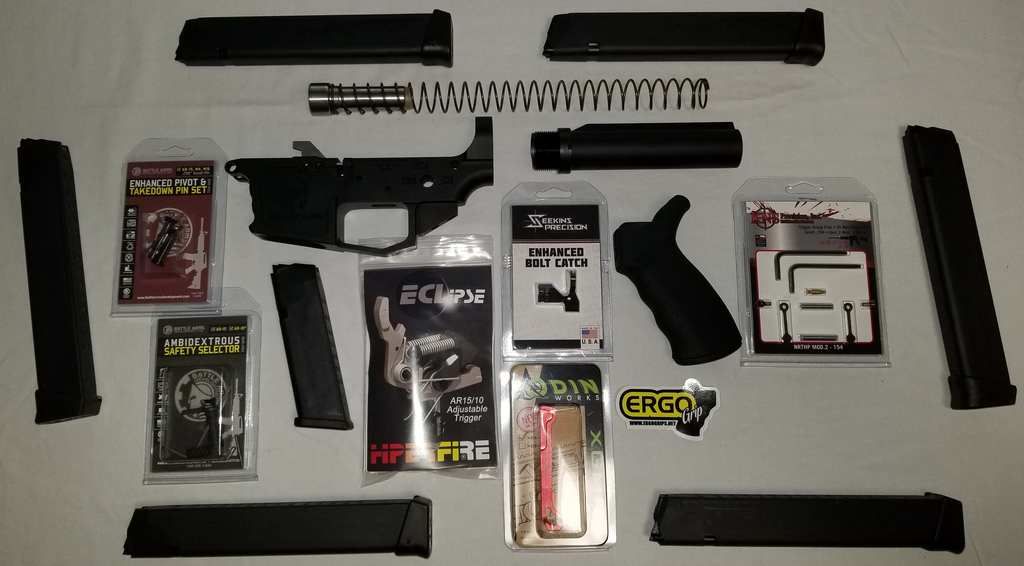 Lower Parts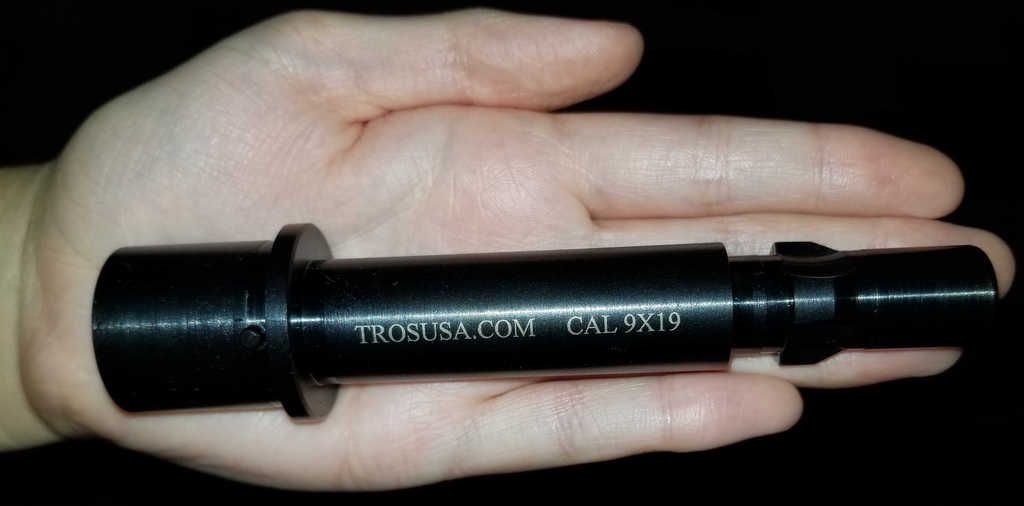 5in 3 Lug Barrel

Right Side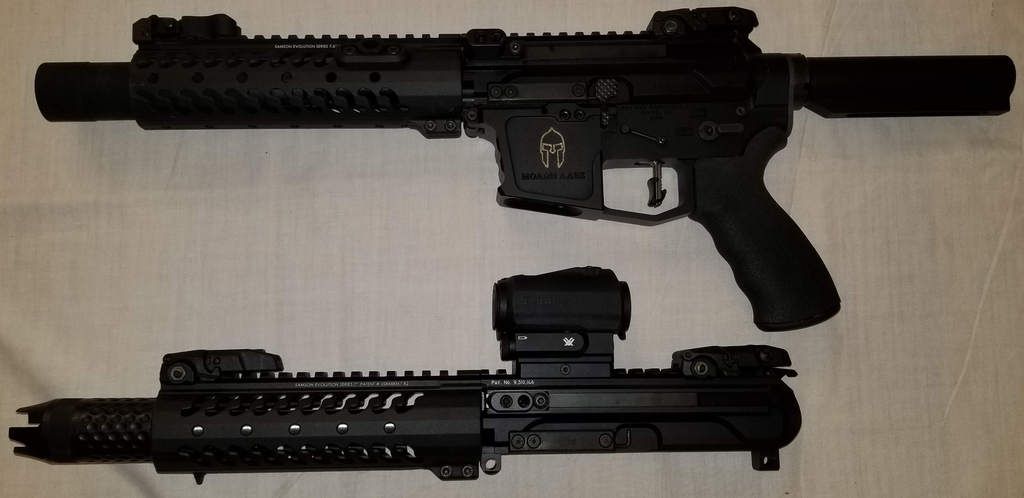 Red Dot is the Vortex Sparc2 AR
Top is my 5.56 7.5in SBR Built it about two years ago. Spikes Lower with Same Trigger.
Handguards Top to Bottom are Samson 7in 7.5in and 7in
The Following Pictures Are Mostly For Comparisons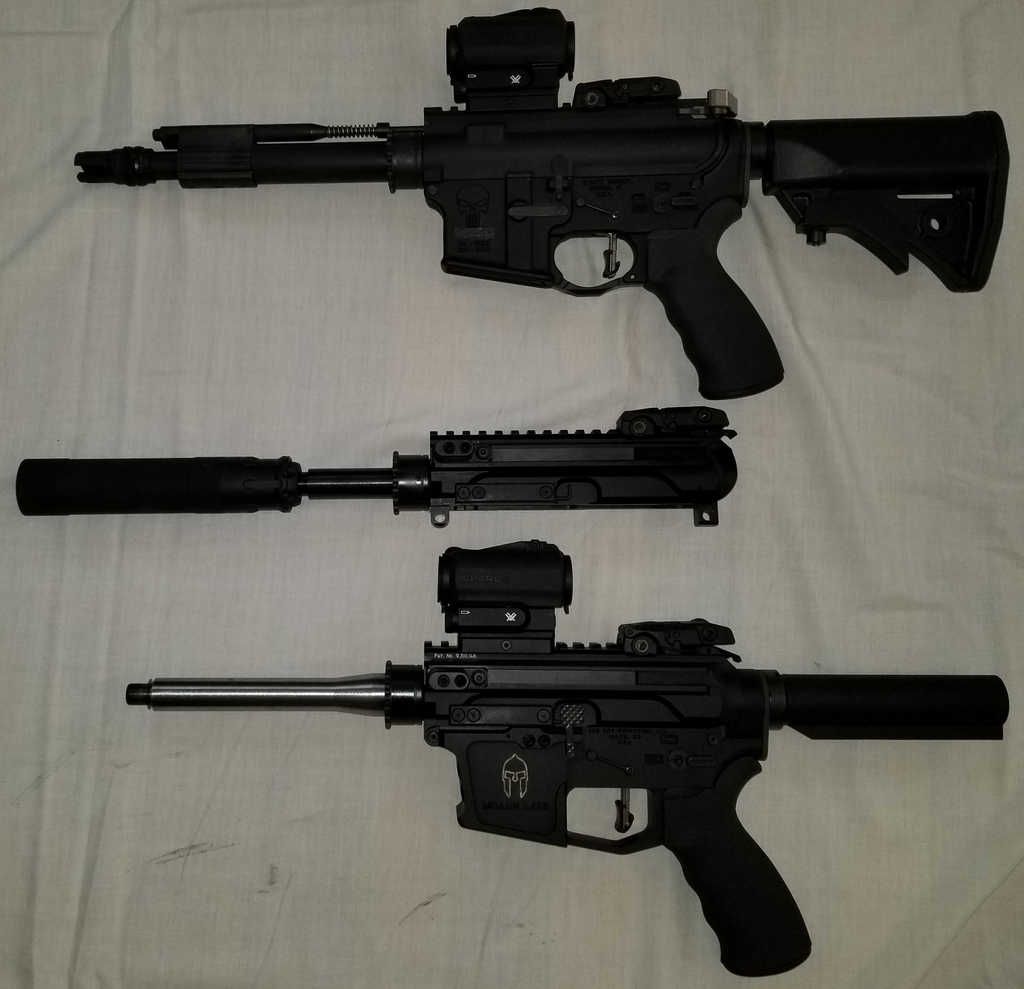 Obsedian45 in Short Configuration Mounted on the 3 Lug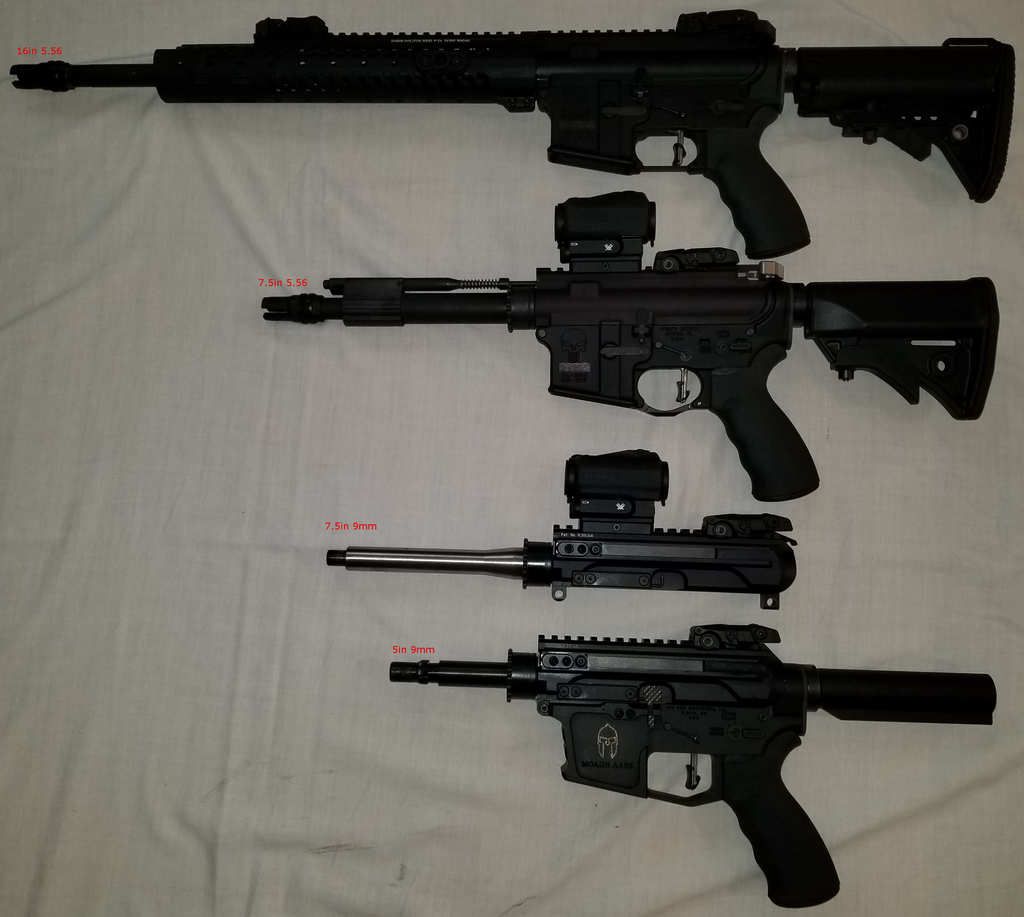 Hope You Enjoyed