My 1894 44 mag has been a jam-o-matic for years and I was about to give up on it. That was until close inspection of the mag tube and follower. The follower was in pretty bad shape and the tube needed polishing. Well being a fella with tinkeritist I decided to give making one myself a try. Guess what? It works better than my wildest dreams.
I started with finding something that would fit the tube smartly and low and behold one of my accidental range pick ups was a fit perfect. It was a .500 S&W spent cartridge. then knowing 44 mag are what is meant to slide down the tube it was just a matter of mating the two. I knocked the primer out of the 500, chucked it in the drill press, poked a .300 hole followed by a .450 (4/1000 smaller than a spent 44 mag). Then proceed to do some measuring with a micrometer, placed the 500 on a vice anvil and gently tapped in the 44 mag until I was close. Installed in rifle, cycled dummy shells loaded to max COLA and it was just a bit long. Took it out a few more taps and repeated. It feeds better than it ever has. Then I soaked a piece of paper in flux and soldered the 44 to the 500in the gap.
It isn't pretty and it holds one less round but by the extra length I guarantee it will not cant in the tube and now My rifle works like a charm.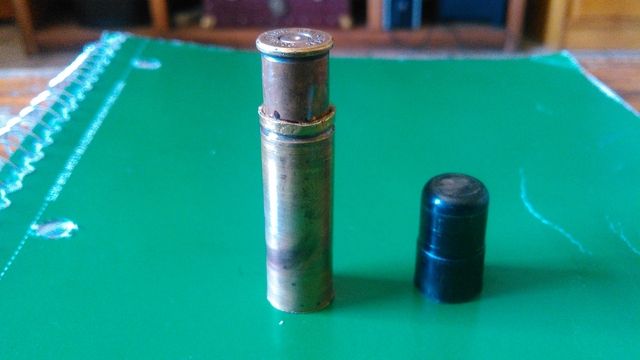 The green is from the flux from the solder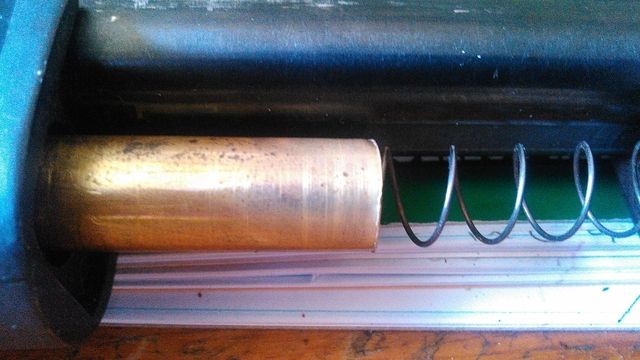 it also makes lining up the mag tube easier.
I know it's not pretty but I am a devout believer in function over aesthetics.