CHARCUTERIE & SALUMI
NOT
the kind of meat hobby pictures that fascinate Casual and his fellow crane drivers.
A while ago I started getting interested in curing meats. I did some belly bacon and back bacon, which are basic gateway meats that anyone can cure in their fridge using Morton's Tender Quick and a ziploc bag. Those experiences led me to sockey salmon gravlax,
Gravlax Recipe
which is stupid simple and SO good, and a nice brisket that I turned half into corned beef and half into pastrami.
Next, I upped the ante by scoring a $20 wine fridge on Craigslist and a temperature/humidity sensor - turns out, the "red wine" setting is nearly perfect for curing meats - 57 degrees and 65-70% humidity.
Ordered some InstaCure #1 and #2, bought a couple of books on Kindle - "Chartucerie" and "Salumi", both by Michael Ruhlman, and started surfing the Interwebz for recipes.
My first real charcuterie was duck prosciutto - again, stupid simple.
Duck Prosciutto Recipe
For my first few times, I used the half-pound Maple Leaf brand duck breasts from my local butcher. I also started picking up various old-style sausages and meats from First Quality Sausage in Safety Harbor
First Quality Sausage website
- that's their smoked bacon hanging next to my duck prosciutto in the next picture - and Polish/German/Ukranian delis in St. Pete, Sarasota, and North Port.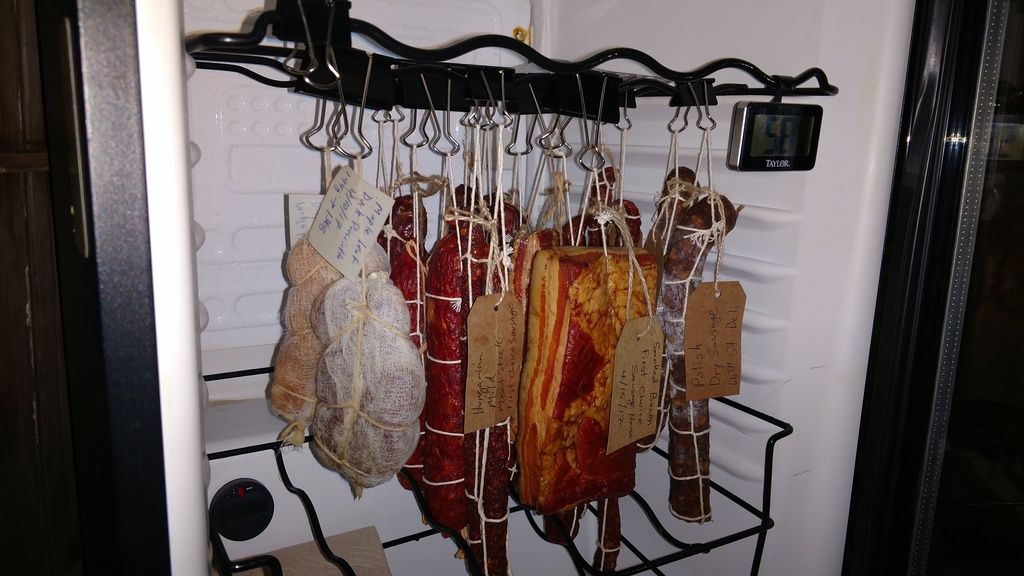 More recently, I cured two Magret duck breasts from D'artagnan
D'Artagnan website
, a Publix Greenwise pork tenderloin, and a Prime eye of round - these will become duck prosciutto, filetto (mini-lonza)
Filetto Recipe
and bresaola
Bresaola recipe
Here they are in the curing bags - I'm using the 3%-by-weight equilibrium curing method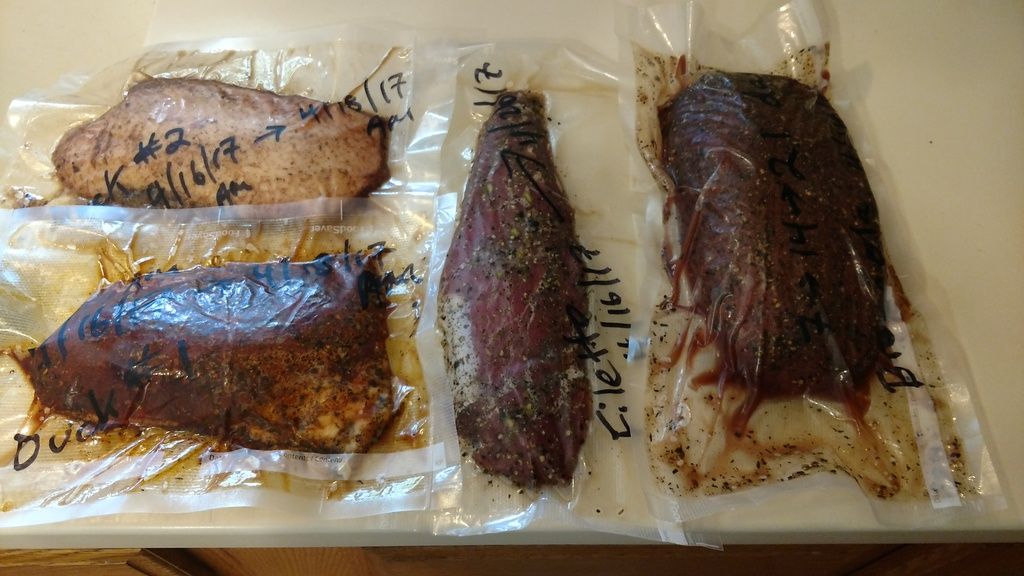 I also cured a hog jowl which is now hanging to become guanciale.
Guanciale Recipe
And here is a shot of all of that hanging in my curing chamber this weekend. The duck is almost done, the filetto was cased and hung about 10 days ago as was the guanciale, and the bresaola was cased and hung on Saturday. (sorry for the poor focus in this photo)
Notice the good white mold growth that is going so well on my filetto. I had a couple of the Polish sausages that I had bought and hung in my curing chamber which developed nice white mold growths within a week of hanging. When I pulled them out to eat, I took a small piece of cheesecloth dipped in a small jar of distilled water and wiped the mold off the Polish sausages. I put the jar containing the moldy water and cheesecloth in my curing chamber to keep it cool. Then, a couple weeks later when I cased the filetto in a natural casing, I let it air dry, then dampened it with the mold water. Viola! A week later and I had an amazingly healthy mold bloom on my filetto!! The good white mold will prevent the bad green mold and the deadly black mold from becoming established on the casing. I've done the same with the bresaola, so now just waiting for the bloom.
And finally, here is a shot of my current stash of meat sticks, knockwurst, salami, kielbasa, etc. that I have picked up at various delis for munching on whenever the mood and the IPA strike me!
So - are any of you into moldy meats as well?