This is a pic that Dolfan has posted a couple of times.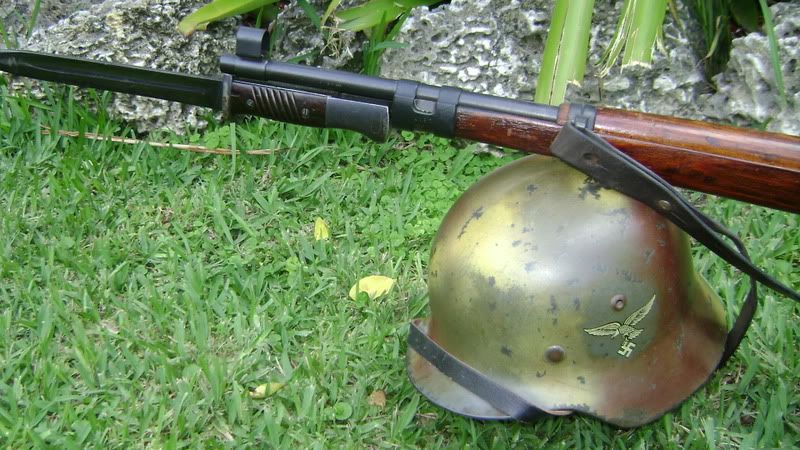 Tonight something caught my attention. My dad brought back a few items when he returned from fighting in Italy during WW2. One of them was a bayonet very similar to the one pictured above. For years I couldn't figure out how it could be a bayonet because it appeared that the ring that would go over the barrel (like the M16's M7 bayo) had been cut off. But it seems a ring isn't required, as seen above. BTW, what the hell is holding the front of the bayo to the rifle?
Anyway, as mentioned, this bayo is similar to the one above. The blade (chromed?) is almost 10" long. There is a "squirrel" sitting up on it's rear legs on the left side of the blade near the hilt. Above the squirrel is the word "ORIGINAL" and below is "Elckhorn Solingen" on two lines. At the rear of the handle, on the right side, is a button that activates a catch that I assume locks the rear of the bayo to the rifle.
It comes with a two piece scabbard. A metal piece that holds the bayo and which is in turn held in a leather piece that would go on a belt. There are no markings on the scabbard that I can see.
So, what do I have here? I've been wondering for years exactly what this thing was and what it might mount to. Unfortunately, I don't have any pics of it.