A quick review of the Taurus PT111 G2 9mm.
1st of all I am very aware of Taurus's reputation of producing junk!
This gun has been seen as a new step up in quality for them.
They are under new management and seem to want to get things right.
ALL reviews I could find were very positive.
They have also lowered their price on these!
You can get one from between $199-$250.
I was curious and broke but wanted a truck gun or beater that I wouldn't worry about it getting "handling marks".
I handled on in person then bought it. It was the ONLY one around for miles!
I liked the grip texture and feel. It seems to be sized between a Glock 26 and 19. That's a sweet spot IMO.
The grip is thin also for a double stack (12 rds)!
I must admit I like the flutes on the slide also.
Breakdown is like Glock's.
It comes with adjustable (plastic) rear sights.
Comes with 2 mags, I wish one had a flat base...
I took it to the range today.
It's trigger has a loooong pull of mushiness till you finally arrive at the break.
Slow firing it off a rest to see how accurate or not it was, It felt like I had to apply 20#s of force...
Shooting it free hand it didn't feel as bad but the trigger is not the greatest that's for sure.
Still I managed to get a decent group at 15 yds with my own reloads using a 147 gn, JHP off the rest.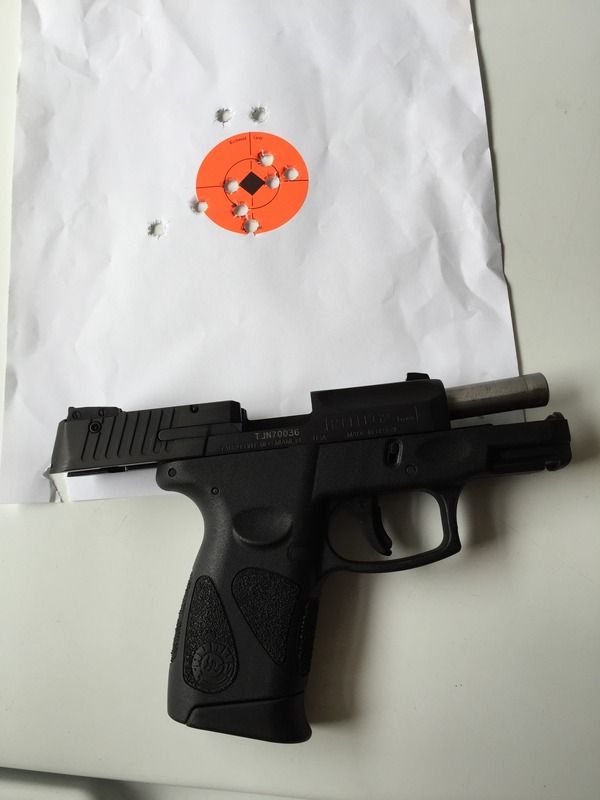 I fired 50 rds of FMJs (Perfecto) and 50 rds of my 147 JHP reloads.
No failures of any kind. Slide locked back when empty, etc.
To summarize my thoughts, I think it is a great gun when you factor in that it's less than half the price of a Glock!
If you can live with the trigger for SD use and the manual safety doesn't bug you (I just don't use it), then I think you will be happy with one of these bargain priced Tauruses.
I understand Sig P229 and P226 mags will work in this gun also. So no problem getting more mags.
I also found OEM available from Academy Sports for $29.