1000yd match at Camp Blanding
Posted: Wed Oct 25, 2017 9:22 pm
Got talked into attending an F-Class match at Camp Blanding in Starke this past Sunday. Blanding is a National Guard base.
Had to load on short notice and the only rifle I had ready was my AR10 in 6.5Creedmoor with a 20in barrel, topped with a 3-12x Weaver scope.
Figured it would be a good test for the rifle since I built it in July. Rifle was not optimal for F-Class shooting but I wanted to see what it would do.
We had good weather, sunny but windy and stated to get windier as the day went on.
Signed in for the match, and because it was my first time there, they asked if I had any 1000yd experience. I hadn't shot a 1k match in nearly 4yrs
Before the start of the match they ask that if you were not sure about your dope, they had a target sized gong set up at 1k to shoot at with a spotter to get you on target.
My rifle is setup for a 130gr Hornady ELD doing 2750fps with a 300yd zero.
I had a really good zero and data on my rifle and at first I wasnt going shoot at the gong. But I was the only person at the match with a gas gun and had the shortest barrel. So I took a shot at the gong, I was last to shoot at it. The RO sets up behind me, he says whenever you are ready. Bang! 2secs later Ding! First round hit.
I was happy that my dope was on, as it cut down on any questions about my ability. Shot the rest of the match, like I said, rifle was not optimal for this type comp.
I didnt score very well, but I never missed the target over the course of 70 rounds, even when the wind picked and started blowing, I kept it on paper. All my shots were in the black, but 1000yds is a long way with only a 12 power scope. My scorer commented that my rifle shot better than he expected for being a gas gun.
All in all it was a fun weekend at a great range. I will have to try to get back up there.
Pic of me sending one downrange.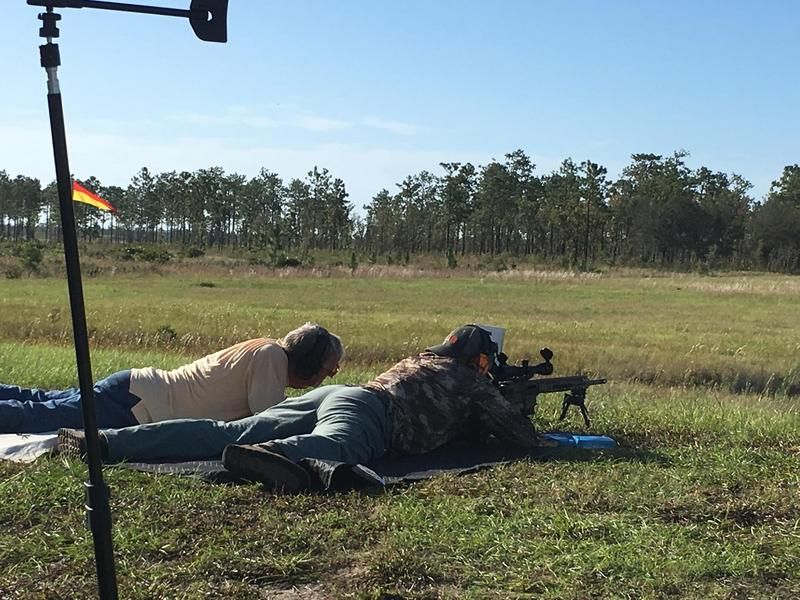 Specs:
Upper/lower - Aero Precision M5
Barrel - Ballistic Advantage in 6.5 Creedmoor .875 at gas block 20in length
Handguard - Aero Precision 15in Keymod
Trigger - Larue Tactical MBT-2s
BCG- Toolcraft
Scope - Weaver Tactical 3-12x42mm
Mount - Bushnell PEPR QR 30mm
Bipod - Harris 6-9BRMS
SY