I am going to start my AR9mm build using the experience from building an AR15 SBR in 2015.
This one will start as a Pistol one lesson I learned from the last one among other things. Somethings however appear to be not so straight forward with the 9mm build so that is where my questions will be leaning towards. Buying the wrong parts gets expensive as we all know, so I will be trying to cut down on that hopefully with the questions that follow.
Below is my 1st Build
Below the Picture is the list of parts for the 9mm Build.
Parts:
Adams Arms 7.5 Gas Piston Upper. Spikes Lower. LWRC Ultra Micro Stock. Hiperfire EClipse Trigger. Sampson Handguard
Vortex AR Red Dot. KNS Anti Rotation Pins. BAD-ASS Safety. Magpul Flip Sights. Radian Raptor-SD Charging Handle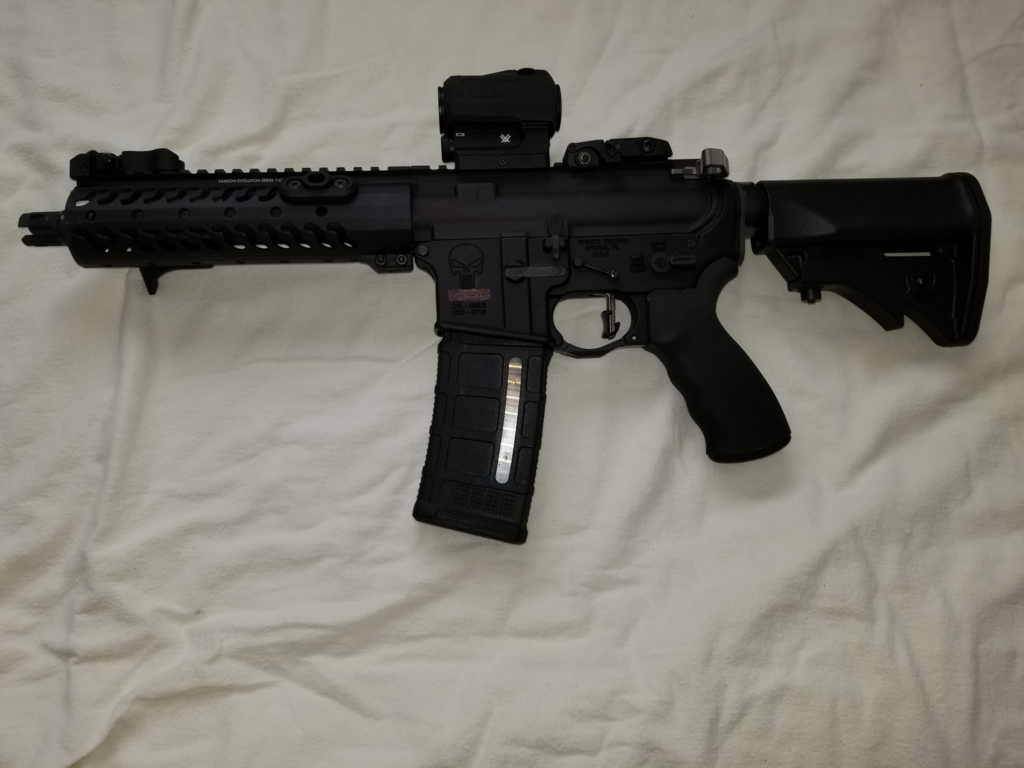 Here is my list of parts that I am pretty sure I want as my foundation.
Spike's Tactical AR-15 9mm Glock Style Lower Forged Spider Stripped with /Last Round Bolt Hold Open (LRBHO)
Spike's Tactical Spartan 9MM/45ACP Billet AR15 Upper Receiver w/ Last Round Bolt Hold Open (LRBHO)
Trigger Hyperfire Eclipse, Already have two one in my SBR and One in my Other AR Love Them!
After that I am all ears.
My tentative picks are listed below Any and All thoughts are welcome
.
Yankee Hill Machine Handguard. They look easy to remove and replace. Could be handy when changing out silencer and muzzle device?
Barrel???
Leaning toward 6.5 or 7.5in. I will need to be able to put a 'Faux Gas Block' on it, so it must be able to accommodate that. The reason being I intend to put the DOLO's system on it eventually so I can change barrels on it. From 9mm to 40cal. I have never purchased a 9mm Barrell obviously, so any and All ideas, places and places to avoid even please let me know. I think The Barrel is my biggest question mark in the project I am all ears here.
Bolt Carrier Group? Not many to choose from. My research has led me to the KWP below.
Kaw Valley Precision AR-15 9mm BlowBack Bolt Carrier from what I have read it plays well with the Hiperfire Trigger.
There are Ton's of buffers! I am leaning towards the JP below any and all ideas.
JP Silent Captured Spring Gen 2 for 9MM AR-type rifles
Since it is going to be a Pistol for a while I will be looking on the Forum for a used one maybe from someone who has already SBR'd there's. I would like to hear what's good? Prefer short tube ones so I can just put in the pistol size buffers this is one place I have no ideas on yet.
I plan on checking the sight daily
until the sales start in a few weeks I look forward to all the feedback good or bad on the parts I have already listed and parts you can suggest.
Thanks to All in Advance.